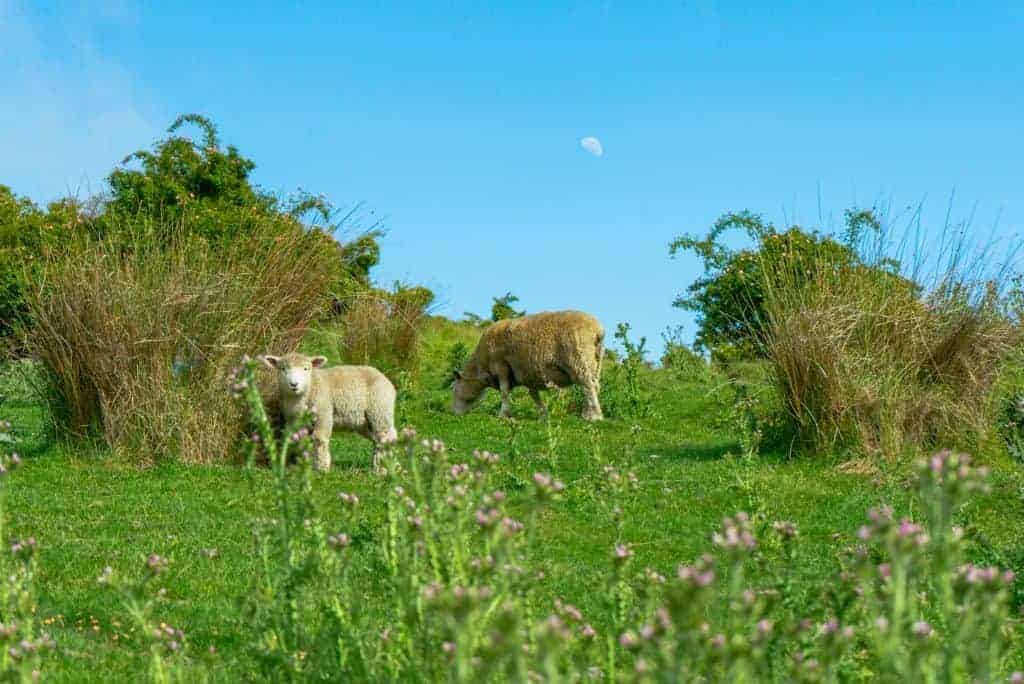 Updated May 25, 2021
It can be a challenge to ensure sheep residents have healthy, happy lives after coming to a sanctuary, and there are many different aspects of care to consider each day. Unfortunately, toxic and poisonous hazards are sometimes overlooked in the hustle and bustle of operating a sanctuary. While minor exposure to many of these toxins are unlikely to cause serious problems, large amounts can cause severe health issues and sadly, even death. There are also some toxins that are highly dangerous even in small amounts.
In order to help ensure you never run into this problem, we have compiled this resource of common plants and other potentially toxic things that have been known to be a problem for sheep.
Plants That Are Toxic To Sheep
We have built a list below of a number of plants known to be toxic in some way to sheep. If you'd like more information, Check out The Open Sanctuary Project's Global Toxic Plant Database and filter Species Afflicted by sheep in order to see a list of plants across the world that are toxic to sheep. Please note that, while comprehensive, this list may not contain every single plant toxic to sheep!
Adonis, Pheasant's Eye
vomiting
abdominal pain
diarrhea
cardiac

arrhythmias
Azalea
anorexia
excessive salivation
vomiting
colic
frequent defecation
in severe cases, muscle weakness

bradycardia

cardiac

arrhythmia

weakness
paralysis
coma may precede death
Bitterweed, Rubberweed
If ingested in lesser quantities over a period of weeks exhibit the following symptoms:
depressed
off-feed
teeth grinding
hunched-up appearance
muscle tremors
weakness

recumbency

regurgitation
lung congestion
coughing
pneumonia
death
Black Henbane, Hogs Bean
decreased salivation (dry mouth)
bloat

intestinal stasis

colic
diarrhea may result

ataxia

due to muscle weakness
dilated pupils are common and animals may have difficulty seeing normally.
excitement and convulsions may occur when large amounts of plant are eaten
Black Locust
diarrhea
weakness
depression
cold extremities
weak pulse
irregular heartbeat
Bouncing Bet, Soapweed
decreased rumen activity
excessive salivation
colic
diarrhea
acute liver toxicity and death are possible
Brackenfern
weakness
weight loss
pronounced bleeding
most often fatal after diagnosis
lower cumulative doses are carcinogenic
Buckwheat
Animals with white skin are most severely affected.
Black skinned animals are not affected except for showing

photophobia

if the eyes are not pigmented. Initially the non pigmented skin becomes reddened, severely pruritic, swollen and painful.
Severe

photosensitization

results in serum exidation and

necrosis

of the skin, causing the skin to become dry, parchment-like and eventually sloughing.
Affected animals become very agitated when exposed to sunlight often desperately seeking shade under vehicles, buildings, trees etc. to avoid exposure to sunlight light.

Photophobia

and tearing may be evident.
Buffalo Bur, Kansas Thistle
bloating
diarrhea may result from eating the young green plants.
Castor Bean
vomiting
diarrhea
increased thirst
convulsions
prostration
circulatory collapse
Cocklebur
symptoms appear within a few hours
weakness
unsteady

gait

twisting of neck muscles
depression
nausea
vomiting
labored breathing
rapid, weak pulse
death
Colorado Rubberweed
salivation
coughing
vomiting rumen contents
rumen stasis
bloat
weakness
recumbency
death
Poisoning is infrequent when other forages are available.
Cow
Cockle, Spring Cockle, Dairy Pink
diarrhea
acute liver failure
Crotolaria, Rattlepod
Yellow coloration to the mucous membranes (jaundice), weight loss, diarrhea, rectal

prolapse

,

edema

of the legs, red urine (hemoglobinurea) are signs of severe liver disease.
Abnormal neurologic behavior develops (depression, aimless wandering, head pressing) once sever liver degeneration is present.
Secondary photosensitization develops as a result of severe liver disease.
White skinned (non pigmented) areas become red, swollen, and painful before the skin dies and sloughs-off as is if severely sun-burned.
Curly Leafed Dock, Sorrel
Within a few hours of consuming toxic levels of oxalates, the following symptoms may occur:
muscle tremors

tetany

weakness
reluctance to move
depression
recumbency
Coma and death may result within 12 hours.
Animals that survive the acute effects of oxalate poisoning frequently develop kidney failure. If animals do not die from the acute effects of the low blood calcium levels, death results from kidney failure.
Day Blooming Jasmine, Night Blooming Jasmine, Cestrum
Animals that have consumed the calcinogenic Cestrum diurnum over a period of weeks, develop a syndrome of:
chronic weight loss
stiffness
reluctance to move
lameness
eventually recumbency
Affected animals have elevated blood calcium levels. Death results from progressive

calcification

of the soft tissues of the body.
Animals consuming the non-calcinogenic Cestrum species (all Cestrum species except Cestrum diurnum) develop signs of:
liver failure
including weight loss
depression
jaundice

hepatic encephalopathy
Death Camus
excessive, foamy salivation
vomiting
frequent urination/defecation
diarrhea
convulsions
muscle weakness
staggering
rapid/weak pulse and respiration
Death can occur within days after ingestion of 0.5-2% of body weight.
Desert Baileye
loss of appetite
vomiting rumen contents
green staining around the lips and nose.
reluctance to move
muscle tremors
incoordination
prostration
rapid, pounding heart rate.
coughing may indicate the presence of an inhalation pneumonia resulting from the regurgitation of rumen contents
Dogbane, Indian Hemp
Dogbane is rarely eaten by livestock unless they are starving.
abdominal pain due to hemorrhagic gastroenteritis
irregular heart rate
decreased cardiac output
death
Elderberry
increased heart rate
venous blood is bright cherry-red in color
increased respiratory rate
panting
open-mouthed breathing
extreme difficulty breathing
bright red mucous membranes
death results rapidly from

asphyxiation

.
Cyanide poisoned animals become very excited when unable to breath.
Abortions may occur several days later if the mother survives the acute effects of cyanide poisoning.
English Ivy
local irritation
excessive salivation
nausea
excitement
difficult breathing
severe diarrhea
thirst
coma
Foxglove
gastrointestinal irritation
diarrhea
anorexia
nausea
slow but strong pulse
contracted pupils
difficulty breathing
open mouth breathing
excessive salivation
nervousness
weakness
mucous membranes appear pink and redder than normal
venous blood is cherry red in color
collapse
death
Goats Rue, Professor Weed, French Lilac
difficulty in breathing
coughing due to the pulmonary congestion and edema
Animals rarely eat the plant unless forced into doing so when other forages are not available.
Greasewood
muscle tremors
tetany
weakness
reluctance to move
depression
recumbency
Coma and death may result within 12 hours.
Animals that survive the acute effects of oxalate poisoning frequently develop kidney failure.
Animals die from renal failure.
Halogeton
muscle tremors
tetany
weakness
reluctance to move
depression
Coma and death may result within 12 hours.
Animals that survive the acute effects of oxalate poisoning frequently develop kidney failure.
Holly
vomiting
diarrhea
stupor in animals if ingested in large amounts
Horsebrush
photosensitization occurs secondarily to the liver disease.
redness and edematous swelling of the tissues around the head
severe anorexia
depression
dyspnea
prostration
death from acute liver failure.
Sheep seldom eat horsebrush when other forages are available.
Horse Nettle, Bull Nettle
salivation
colic
intestinal stasis
diarrhea
muscle tremors
weakness
rapid heart rate
weak pulse

Hemolysis

and

anemia

may be present in severe cases.
labored breathing
nasal discharge
depression
drowsiness
incoordination
paralysis of rear legs
coma
death
Horsetail
symptoms are slow to develop
jaundice
loss of appetite
weakness
staggering gait
excitability
paralysis
Houndstongue
weight loss

photosensitivity

jaundice of mucous membranes
poor condition
diarrhea
abdominal discomfort
head pressing
walking aimlessly
convulsions
coma
effects are cumulative, so even small amounts over time may result in a toxic dose
prolonged ingestion leads to liver failure
Ingestion of 5% of a sheep's body weight in plant matter can be fatal.
Japanese Pieris
excessive salivation, vomiting, and abdominal pain usually develops 6-8 hours after the plant is eaten.
weakness
recumbency
increased heart rate
increased respiratory rate
Inhalation pneumonia is frequently the cause of death.
Seizures and convulsions occur in severely poisoned animals.
Jimmy Weed, Burrow Weed, Rayless Goldenrod
acetone odor to the breath
hindlimb weakness
knuckling at the fetlocks
posterior paralysis
severe muscle tremors
weakness
recumbency
respiratory paralysis
coma
death
Jimsonweed
dilation of the pupils
impaired vision
fast, weak pulse
nausea
loss of muscular coordination
violent,

confrontational

behaviors
trembling
milk is tainted
Johnson Grass
excessive salivation
difficulty in breathing
open mouth breathing
nervousness
weakness
urinary incontinence
cherry-red mucous membranes appear
cherry-red venous blood
Stressing the animal rapidly leads to collapse and death.
Kentucky Coffee Tree
excessive salivation
colic
diarrhea
depression
Kochia
photosensitization (appears as sunburn or white patches)
increased water consumption
weight loss and poor condition
poor vision or star gazing
lethargy
rough hair
stiff gait
jaundice
progressive liver disease and failure
kidney failure due to calcium oxalate crystals
hypocalcemia
spontaneous abortion
bloat
Lambs Quarter
Sudden deaths may occur as a result of acute respiratory failure.
Pregnant animals may abort at any stage of pregnancy.
Lantana
rapid heart rate
difficulty in breathing
photosensitization, especially of the white skinned areas

conjunctivitis

Acute cases develop hemorrhagic diarrhea. Chronic poisoning results in constipation
jaundice
Death results after animals become severely emaciated.
Laurel
drooling
watery eyes
runny nose
vomiting
complete or partial blindness
drowsiness
convulsions
paralysis
Leafy Spurge
unlikely to eat unless starving
excessive salivation
vomiting
colic
diarrhea
sap can cause eye irritation
Leucana, Whiteland Tree, Guaje, Huaxin, Koa Haole
decreased feed consumption, excessive salivation
musculoskeletal degeneration
poor weight gain
congenital defects
enlarged thyroid glands (Goitre) in the fetus and mother
hair loss
Locoweed
depression
weakness
weight loss
incoordination
Lupine
teratogenic (fetal damage, abortion)
muscle tremors/spasms
labored breathing
incoordination
staggers
difficulty moving
agitation
loss of vision
head pressing
convulsion
coma
Marsh Arrow-Grass
symptoms appear rapidly
rapid, difficult breathing
almond odor to breath
sheep go down with head turned to one side
Milk Thistle
collapse and death may be the first symptoms of acute toxicity
frequent urination
mucous membranes (and blood) are brownish in color
frothing at the mouth
diarrhea
unthriftiness
trembling
staggering
abortions
Milkweed
loss of appetite
constipation
drooling
excitable
difficult breathing
rapid, weak pulse
convulsions
death
Monkshood, Aconite
salivation
bloating
muscle weakness
staggering gait
recumbency with inability to stand due to muscle paralysis.
increased respiratory rate
difficulty breathing
Sudden death due to severe cardiac arrhythmias is common.
Mustards
diarrhea
abdominal pain
vomiting
Salivation
mouth ulcers
photosensitization
blindness
goiter
nitrate toxicosis
head shaking
aimless wandering
Nightshade
abdominal pain
stupidity
dilation of pupils
loss of appetite
diarrhea
loss of muscular coordination
unconscious
death
Nolina, Bear Grass, Bunch Grass
weight loss
photosensitization
swollen, reddened skin, especially of white skinned areas, or areas with little hair covering. The skin in these areas dies eventually, becoming parchment-like and peels off.
severe jaundice

cholecystitis

Animals will generally not eat this course plant unless there are no other forages available.
Oak
Acorns and young shoots can cause severe poisoning.
anorexia
constipation that develops into diarrhea
gastroenteritis
thirst
excessive urination
Onions
distinct odor of onion on the breath, feces, urine and milk of poisoned animals.
weakness and recumbency due to severe anemia.
pale mucous membranes
fast, weak pulse
dark red-brown colored urine
increased respiratory rate
staggering and collapse as a result of anemia
In severely anemic animals, stress and heavy parasite infestations may be sufficient to cause death.
Oleander
severe vomiting
diarrhea
swollen and inflamed oral tissues
cold extremities
dilated pupils
increased heart rate
weakness
death
Orange Sneezeweed
decreased appetite
bloating
teeth grinding
rumen stasis
projectile vomiting of rumen contents leading to dehydration, weight loss, weakness and inhalation pneumonia.
A common name for the disease is 'Spewing sickness'
muscle weakness
ataxia, especially in lambs causing them to lag behind the flock.
inhalation pneumonia
Perilla Mint
acute respiratory difficulty
rapid open mouth breathing (often referred to as

cow

asthma)
death
Pigweed
edema
nasal discharge
increased heart rate and respiration
bloat
kidney damage/failure; diarrhea, sometimes bloody
lack of appetite
weight loss
depression
weakness
muscle tremors
incoordination, staggering, or difficulty walking
lethargy
facial twitches
Poison Hemlock
death may occur within 15 minutes
frothing at the mouth
uneasiness
pain
dilated pupils
clamping of jaws
grating of teeth
vomiting
weak, rapid pulse
diarrhea
bloating
convulsions
respiratory failure
Ponderosa Pine
renal failure
abortion

Cows

develop edematous swelling of the vulva and udder prior to abortion.
Princes Plume
cracked hooves and lameness
Purple Locoweed
decreased appetite and weight loss
malabsorption of essential minerals and vitamins
decreased growth rates
lambs may be born with deformed legs.
abortions and fetal death are common
abnormal behavior including sudden changes in temperament
aggressiveness
ataxia
falling over unexpectedly
violent reaction to routine management practices such as putting a halter on
Purslane
muscle tremors
tetany
weakness
reluctance to move
depression
recumbency
possible kidney failure
coma and death may result within 12 hours.
Rhododendrons
anorexia
coughing
choking
retching
foaming at the mouth
vomiting
colic
paralysis
depression
groaning
muscle twitching
death
Salt Bush
lameness due to hoof wall deformity and horizontal cracks in the hoof walls
Scotch Broom
excessive salivation
anorexia
colic
muscle tremors and incoordination
possible muscle degeneration
Serviceberry, Saskatooh Berry, June Berry
excessive salivation
difficulty in breathing
open mouth breathing
excitement
nervousness
pink or red mucous membranes (more than normal)
cherry-red venous blood
Stressing the animal rapidly leads to collapse and death.
Pregnant animals may abort if they survive the cyanide poisoning themselves.
Snakeweed, Broomweed, Turpentine Weed
diarrhea followed by constipation
loss of weight
abortions
retained fetal membranes.
Sneezeweed
symptoms are slow to develop
loss of vigor
loss of flesh
rapid pulse
labored breathing
loss of muscular control
drooling
high temperature
dizziness
spasms
convulsions
Sophora, Texas Mountain Laurel, Mescal Bean, Coral Bean, Frijollito
After consuming, stress or exercise often induces:
trembling
stiff gait
falling
difficulty in rising
Spiny Plants (burs, thistles, needle grass)
drooling
lack of appetite
lameness
bloody saliva
head-shaking
weeping eyes
excessive thirst
lesions/ulcerations/blisters in mouth
rubbing; licking
mouth open, tongue hanging, or yawning
snorting or blowing
anxiety
weight loss
dehydration
decline in temperament
coughing
vomiting
occasionally colic and/or impaction
Spotted Or Blue Locoweed
weight loss
poor growth rates possibly due to poor absorption of nutrients from the intestinal tract.
Calves, lambs, and foals may be born with deformed crooked legs.
Abortions and fetal death are common.
depression
incoordination
staggering gait
unpredictable behavior
poor vision
Spurge
Contact with sap causes:
diarrhea
vomiting
swelling around mouth and eyes
abdominal pains
muscle tremors
sweating
tainted milk has reddish color
St Johns Wort
photosensitization

photodermatitis

skin blisters
lesions on udders causing pain and refusal to nurse
skin may peel or slough, sometimes in sheets
redness and swelling of eyes
avoidance of sunlight
higher pulse rate and temperature
seeking out of water
head rubbing
anxiety
occasionally convulsions and/or death.
There may be a delay of up to three weeks after ingestion before symptoms appear.
Suckleya
excessive salivation
sudden death
mucous membranes appear pink and redder than normal
venous blood is cherry-red
Stressing the animal rapidly leads to collapse and death.
difficulty in breathing
open mouth breathing
nervousness
weakness
death
excitement
nervousness
abortion
Sudan Grass
difficulty breathing
brownish "chocolate" blood
collapse
death
Sweetclover
lameness
bruises
hematomas
excessive bleeding
animals may have bloody noses
bloody feces
excessive bleeding from wounds or incisions
Tall Buttercup
inflammation and blisters where plant juice touches skin
mouth blisters cause drooling and loss of appetite
other symptoms similar to those for marsh marigold
Tansy Ragwort
nervousness
chills
pale mucous membranes
loss of coat luster
strong, rapid pulse
high temperature
staggering gait
weakness
death
Two-Grooved Milk-Vetch
cracking of hoof walls
lameness
deformed bones of the legs (crooked legs).
abnormal behavior including sudden changes in temperament
aggressiveness
ataxia
falling over unexpectedly
violent reaction to routine management practices such as putting a halter on
abortions
breaking off of long hairs
rarely if ever eat two-grooved milk vetch because it is unpalatable due to the high levels of selenium it accumulates
Its presence in a pasture however indicates that the soil is high in selenium, and therefore other forages in the area will accumulate selenium and pose a risk to residents.
Water Hemlock
death may occur within 15 minutes
frothing at the mouth
uneasiness
pain
dilated pupils
clamping of jaws
grating of teeth
vomiting
weak, rapid pulse
diarrhea
bloating
convulsions
respiratory failure
White Snakeroot
depression
inactivity
arched body
hind feet placed close together
excessive salivation
nasal discharge
nausea
rapid, labored breathing
Wild Cherry
Wilted cherry tree leaves cause anxiety
staggering
falling down
convulsions
rolling of the eyes
tongue hanging out
loss of sensation
dilated pupils
The sheep can then become quiet, bloat and die within a few hours of ingestion.
Yew
gastric distress
diarrhea
vomiting
tremors
dilated pupils
respiratory difficulty
weakness
fatigue
collapse
coma
convulsions
circulatory failure
death
Survival after yew poisoning is rare.
Other Potential Sheep Toxins
Algae
Blue-green algae, which is most often found in stagnant, slow-moving water when temperatures are high, can poison sheep. Symptoms generally develop quite rapidly and may resemble an allergic reaction. Convulsions may occur, but more frequently the sheep sinks to the ground and dies without struggling. Smaller amounts of poison cause weakness and staggering, followed by recovery. In some instances, apparent recovery from an attack is followed in a few days or weeks by evidence of photosensitization. There may be inflammation of the muzzle, the skin of the ear, the udder, or other parts of the body. Jaundice is often seen, and constipation is a common symptom. Such cases usually recover under good care.
Cantharidiasis (Blister Beetle Poisoning)
Blister beetles contain cantharidin, a toxic substance that is used as a defense mechanism against predators. There are more than 200 different species, and they can be found from Mexico to Southern Canada, and from the east coast of the United States as far west as New Mexico. Cantharidin can severely injure or kill sheep when even a small amount is ingested. Sheep come into contact with cantharidin by ingesting alfalfa hay that has been infested by blister beetles. The oily substance can contaminate the hay even if the beetles were crushed into the feedstuff. Crushing or chemically eradicating the beetles does not diminish the toxin potency.
Inspecting individual flakes of alfalfa hay before providing them to residents can help reduce the likelihood of poisoning. Dispose of any contaminated flakes, even if you have removed the beetle, as the toxin can still be left behind. First-cutting hay is less likely to be contaminated than hay harvested later in the year, as the insects likely haven't yet swarmed by then. Harvest alfalfa before it fully blooms to reduce the chances of beetle contamination. Hay is less likely to be contaminated by crushed beetles when harvested with a self-propelled mower or windrower. Crimping hay crushes the beetles into the hay.
Sheep that ingest a massive amount of toxin may show signs of severe shock, and unfortunately, die within hours. Symptoms of sublethal poisoning include depression, diarrhea, elevated temperatures, increased pulse and breathing rates, and dehydration. There is also frequent urination, especially after the first 24 hours.
If you suspect Blister Beetle Poisoning, contact your veterinarian immediately. If early veterinary care is provided, afflicted sheep have a chance of recovery.
Copper
Copper toxicity is especially dangerous in sheep because their liver accumulates copper much more readily than in other animals. Although copper is essential for sheep, too much copper can cause anemia, lack of appetite, fragile bones, lethargy, teeth grinding, jaundice, bloody urine, hair loss, and poor wool coverage. Sheep are ten times more susceptible to this condition than goats. Copper can accumulate in a sheep's liver for a up to a year without any symptoms until the liver releases a large amount at once, causing damage to their red blood cells. Copper toxicity can also be a result of a lack of dietary molybdenum, sulfur, zinc, calcium, or liver damage. Left untreated, copper toxicity can be fatal in only a few days after presenting symptoms. If you suspect copper toxicity in sheep, contact a veterinarian immediately. Veterinary treatment includes a daily drench of ammonium molybdate and sodium sulfate in specific quantities (too much can cause serious health repercussions). The best prevention includes ensuring that the sheep are not eating too much copper in their diet. Make sure that sheep are not given access to minerals not explicitly approved for sheep, as even goat minerals have too much copper for a sheep's body.
Grain Overload (Acidosis, Grain Poisoning)
Grain overload occurs when sheep eat large amounts of grain, causing carbohydrates to be released in the rumen and ferment instead of being normally digested. Lactic acid is produced resulting in slowing of the gut, dehydrations and sometimes death. While wheat and barley are the most common causes of grain overload, lupins and oats can also be the culprit.
Grain overload is most commonly seen where sheep may be in a newly harvested pasture and spilled and unharvested grains remain, and when sheep gain access to bags or cans of grains and pellets. If a sheep isn't accustomed to eating grain, a sudden switch to grains can cause grain overload as well.
Signs of grain overload include:
depressed appearance

lying down

diarrhea

dehydration and thirst

bloating (of the left side of the abdomen)

staggery or tender gait and 'sawhorse' stance

death
If you suspect a sheep has grain overload, contact your veterinarian immediately. Treatment depends on the severity of the condition. Following grain overload, the rumen lining takes up to six weeks to repair, and some animals may develop secondary infections that will require veterinary treatment.
Hardware Disease
Hardware Disease refers to the injuries that can result from any animal resident eating something they shouldn't, especially pieces of human-made hardware like nails, screws, and staples. Hardware disease can have devastating effects on any resident. Check out our resource on Hardware Disease prevention here.
Lead Toxicity
Lead was once used in paints and pesticides, and can also be found from natural environmental sources. Even if you have never used any products containing lead, it may still be present in old barn or fence paint, or in the soil. Places where old machinery and leaded gas have been stored may also have caused contamination, as would old treated lumber and railroad ties. Sheep may ingest the lead in the environment through the consumption of grass, clover, and dandelion or from chewing or licking on tainted surfaces.
Having the soil tested at your sanctuary is an easy way to learn if the environment is safe for residents. You can check with a local environmental conservation service, or agricultural extension office to inquire about testing. It is usually a fairly quick and easy process. Prevent your residents from accessing buildings and fences with old paint, as they may chew or lick these objects and ingest lead.
Sheep with low levels of lead toxicity do not generally exhibit signs. In severe cases, you may see the following symptoms:
loss of appetite

weight loss

lethargy and weakness

incoordination

anemia

unusual manure consistency or diarrhea

respiratory distress or blindness
Consult a veterinarian immediately if you suspect a sheep has ingested lead or is beginning to show symptoms of lead poisoning.
Mycotoxins
Mycotoxins are a toxin produced by molds (fungi) that are harmful to many animals. Mycotoxins can affect sheep through contaminated food or bedding. Moist, warm environments make a perfect recipe for mold reproduction. While sheep are more resistant to the effects of mycotoxin than horses, they can still be affected. The type and amount of mycotoxin a sheep digests affects whether the health issues are immediate and short-lived or may become chronic issues. Pregnant sheep and young sheep are more susceptible. Some general signs of poisoning include:
appetite loss

weight loss

respiratory issues

increased susceptibility to infectious diseases (poor immune function)

poor growth rate
Prevention is key in avoiding serious health issues. Luckily, there are a number of steps you can take to help ensure resident sheep do not suffer the ill effects of mycotoxin poisoning:
Be sure to keep food, grain, and hay storage areas clean, dry, and cool

Try to keep food storage areas

protected from mice and rats

and other wildlife, as they can chew holes in food bags, increasing the likelihood of grain being exposed to damp conditions

Always feed the oldest bags of food first. Try to use up open bags within a few weeks after opening in the winter and in even less time in the summer

Clean any storage bins or cans thoroughly to remove old grain that gets stuck in cracks and crevices

Check with your food manufacturer or supplier to see if they regularly test for the presence of mycotoxins in grains before mixing food. If they do not, avoid using them and find another supplier
If you are concerned about the possibility of mycotoxin contamination, have your food stores tested. This could be especially important if you have a sheep that shows initial signs of mycotoxin exposure.
Pesticides, Herbicides, And Rodenticides
It may not come as a surprise that herbicides and rodenticides can cause toxicosis in sheep if ingested. If sheep ingest plants that have been sprayed with phenoxy acid herbicides, they can become ill or even die. For this reason, it is imperative that sheep are not given treated plants or are allowed access to pastures that have been treated with herbicides.
While rats and mice can pose challenges for sanctuaries, it is important to respect them and use compassionate mitigation practices. Many rodenticides are anticoagulants and act by preventing the blood to clot. These products may be appealing to sheep as well, and they may attempt to lick or eat them if discovered. For this reason, it is imperative that they do not come into contact with these poisons. There are many new and innovative ways to address rodent populations that are more effective and compassionate.
Pesticides may affect the nervous system in sheep and can be fatal if not treated with the antidote. Early treatment is critical. If you suspect a sheep may have ingested any of the poisons above, contact your veterinarian immediately. Blood tests may confirm poisoning.
Snakebites
Venomous snakebites are not common, but when they occur, should be treated seriously and immediately. The most common location for a sheep to be bitten are on the nose or leg. It is possible for a snake to bite several times, so if you notice a snakebite, look for others. Snake venom varies by species, and the severity of a bite can also be influenced by size, age, and the number of bites. Most venoms can impair blood clotting and damage the heart, while some others contain neurotoxins. Signs of a snakebite may include:
pain

swelling at the bite site

one or more puncture wounds

sloughing of tissues near the bite site

cardiac arrhythmias

impaired ability for their blood to clot

shock

collapse

paralysis

death
Seek veterinary care immediately if a sheep is bitten by a venomous snake. Do NOT try to suck the venom out or place a tourniquet. Keep the sheep calm while seeking immediate veterinary care. Depending on the severity of the bit, treatments may include antivenin, pain medications, fluid therapy, wound treatment, tetanus vaccination, and antibiotics. Check out our Compassionate Wildlife Practices At Your Animal Sanctuary for some tips on how to dissuade snakes from your property.
Wood Stains And Paints
Some wood stains and paints can be toxic to sheep. Sheep may try to chew on painted surfaces and can become ill if the stain or paint is toxic. Try and purchase paints and stains that are specially made for barns and fencing and listed as animal or "livestock" friendly.
Foods That You Should Not Feed To Sheep
In addition to the above, these foods should be avoided:
Animal products of any kind
Avocado (Any part of the plant (fruit, leaves, stems, bark, and seeds) can be toxic to sheep. The toxic element in avocado is persin)
Brassicas -Broccoli, cauliflower, cabbage, brussel sprouts. Turnips and kale are also in this family. Turnips have some specific toxicity issues concerning thyroid production. (Use caution. Don't feed large amounts. Avoid seeds and roots.)
Celery (Use caution. Celery contains furocoumarins which can cause photosensitisation. Never feed roots or seeds.)
Citrus (Citrus can cause gastric distress in larger amounts or if fed regularly.)
Chocolate (While there aren't many sources to confirm whether chocolate is a great danger to sheep, it does contain theobromine which can be toxic in a number of other mammals. There are limited studies indicating certain amounts can be toxic so it is best to use caution and avoid altogether.)
Nightshade "vegetables" (Use caution. Do not feed green, immature fruits or leaves, vines or roots of any nightshade vegetable, such as eggplant, pepper, or tomatoes.)
Onions (While sheep have a greater resistance to toxicity issues than some other mammals, onions are not a great treat.)
Parsley (Parsley contains furocoumarins which can cause photosensitisation)
Potatoes (The skin, particularly green skin, and "eyes" contain glycoalkaloids and solanine toxins; leaves and vines can be toxic as well.)
Rhubarb (There are a number of factors that affect levels of toxins in rhubarb; the leaves are particularly toxic but it is better to avoid the whole plant as it contains oxalic acid. Cooking it may reduce toxin levels in the stems.)
Un-Pitted stone fruits (Pits can lodge in the intestines and pits contain toxins.)
For more information on what you should feed sheep, check out our resource here.
While this list isn't exhaustive, it can certainly help you keep resident sheep safe, healthy, and happy!
SOURCES:
Is There Lead In Your Pasture? | Of Horse
Animal Friendly Barn And Fence Paint For Horse Stalls | Stuff For Petz
Overview Of Copper Poisoning | Merck Manual Veterinary Manual
Brassicas: Be Aware Of The Animal Health Risks | University Of Kentucky (Non-Compassionate Source)
Forage Of The Month: Brassicas | University Of Kentucky (Non-Compassionate Source)
Common Poisonous Plants | Ohio State University (Non-Compassionate Source)
Guide to Poisonous Plants | Colorado State University (Non-Compassionate Source)
Blister Beetles | North Carolina State University Extension Service (Non-Compassionate Source)
The Danger Of Mycotoxins | The Horse (Non-Compassionate Source)
Grain Overload, Acidosis, Or Grain Poisoning In Stock | Department Of Primary Industries And Regional Development's Agriculture And Food (Non-Compassionate Source)
Toxin Topic: Snakebites And Horses | The Horse (Non-Compassionate Source)
Poisoning of Livestock by Plants | Ontario Ministry Of Agriculture, Food And Rural Affairs (Non-Compassionate Source)
Common Weeds Poisonous to Grazing Livestock | Ontario Ministry Of Agriculture, Food And Rural Affairs (Non-Compassionate Source)
Protect You Horses And Livestock From Toxic Plants | Washington State Department Of Agriculture (Non-Compassionate Source)